The quality of the product is determined at the beginning of its life cycle
Research and Development
The company has been dealing with the Research and Development in the field of Drive Technology for several years. We established a Research and Development, group entered in the record of the Slovenian Research Agency (SRA).
The R&D department at our company is divided into two main branches. The first is the research branch, dealing in research of new and improved geometries of powertrain machine elements (gears, shafts etc.), and the research in the field of Material Characteristics, and combining different types of materials (plastic, metal, sinter, combinations etc.). The second branch comprises the field of Development, focusing on system drive solutions in the field of E-mobility, industry 4.0, and factories of the future, smart towns and buildings, safety systems and construction of in-house test rigs used for research purposes, while, at the same time, investing heavily in finding solutions to reduce the carbon footprint.
Both branches are overlapping and complementing each other constantly, which is the main purpose and concept for upgrading and improving products constantly.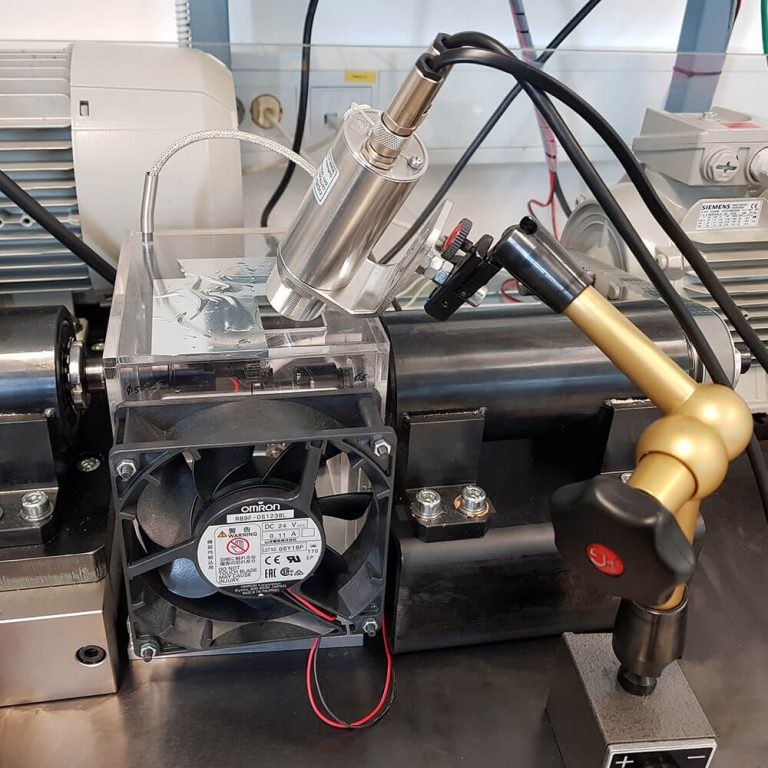 We build knowledge for the future
Research
The research activity is performed by using the methods of analytic and empirical approaches. Analytic research is performed on new forms of gear teeth, which are compared with the existing ones, and on finding the largest possible breakthroughs and contributions to reducing material use, aimed at increasing the powertrain, which is reflected in the reduced carbon footprint.
We focus primarily on powertrain machine elements which have maximum room for improvements, for example, by optimising the gear tooth geometry, replacing the standard and well-researched involute gear teeth with the new so-called S-shaped tooth profile. Emphasis is also placed on the research into new plastic materials in combination with metal materials, above all, because of very poor research into them and lack of information. A combination of both significant topics leads to progress and the possibility of designing products with lower carbon footprint and environmental concern by recycling.
The company has different software for performing different analyses. This software is commercial or our own (SolidWORKS Simulations, KISSsoft, KISSsys, Python etc.), and is used for performing calculations, simulations, analyses and others required for all activities performed at the company. Analytical analyses are performed as well. All together is validated and confirmed with tests and experiments at the end.
It is very important to have an in-house laboratory at our company with test rigs and measurement equipment, ensuring us to perform quality experiments, measurements and, finally, the required test validations, which are also collected in our database. This is upgraded throughout, and also used by our development team in designing and constructing new products and systems. Our laboratory includes equipment for experiments in the field of Drive Technology, testing basic gears using different parameters and measuring the vibro-acoustic characteristics of selected products and machine elements. Tests are performed following International Guidelines (for example, VDI), which means that such measurements can also be compared with the results of other research teams around the world active in similar fields.
In terms of research, we are also the main coordinator of the national project in the field of research on plastic materials and their use in end applications (with the project's acronym being MAPgears). Six research partners, companies and research institutions take part in the project.
In terms of research, our development and research team is also very active in the field of Expert and Scientific Participation in internationally recognised professional and scientific magazines, which is also recorded in the Cobiss bibliography.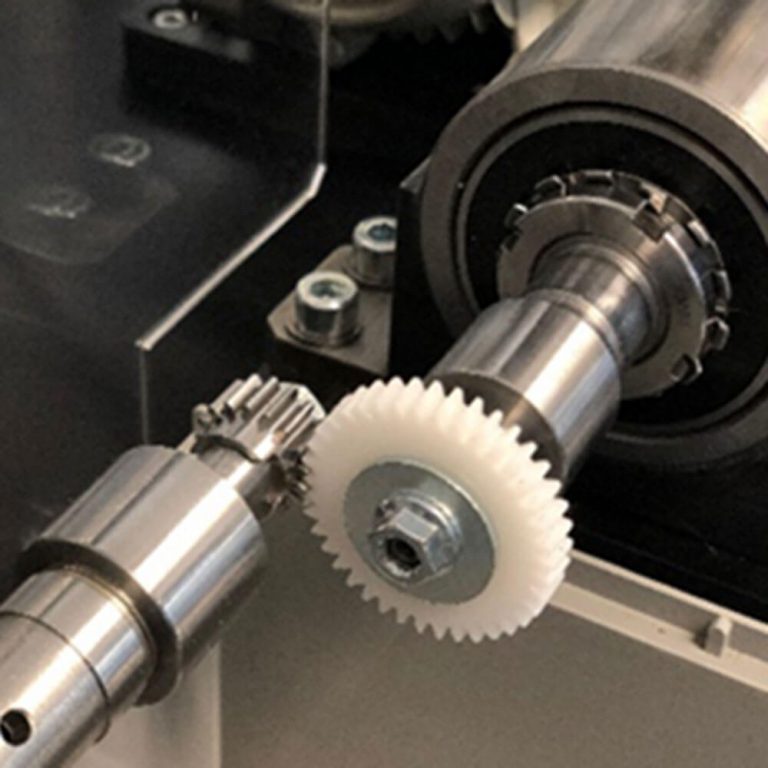 Our research is aimed at discovering new technical plastic products and innovative forms of gears for the best drive solutions.
The development of our algorithm and test rigs enables us to characterise the adequacy of plastic materials and different profiles of tooth gear geometries for selected applications, which is our main guideline in terms of quality for advanced development of powertrain systems.
Testing the lifetime of plastic gears with different tooth flank profiles
The development of our forms of gearboxes (S-gear)
Testing the lifetime of plastic gears under the VDI2736 guidelines
Characterisation of wear and tear of gears
Processing the results by using the KISSsoft (Plastic Manager) software and obtaining Wohler curves
Close cooperation with research partners in the fields of Materials, Technology, Testing, Simulations




Effective Project Management
Engineering of customised mechatronic systems
Where research results pave the way for new trends in the industry.
Research forms a basis for experience, tests, innovations showing potential for the future. As a system partner in the field of Drive Technology, we integrate our innovations in new products through the project cycle from the development to serial production, thus offering only the best products to our customers.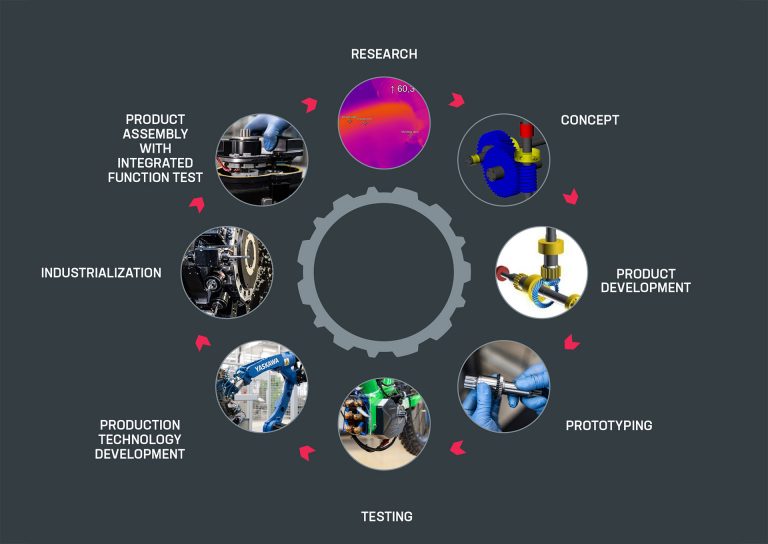 The proper way to the best solutions
From idea to the finished product
»Closed Loop« Project Management with a clear focus: Achieving the best product performance
Projects which are at their initial phase, that is, with only a basic idea of the finished product, are taken over from our customers and realised together with them.
Steps we take together on this way include: research, concept, product development, prototyping, testing, production technology development, industrialization and product assembly with integrated function test.
The key stage of defining the characteristics and quality
Development
The company is focused on developing new, ever-better products with a strong team of experts standing by them.
Development is our main activity, for which substantial resources are earmarked. We focus on the development of innovative mechatronic solutions based on our basic knowledge which we have been building for decades. Mechanical systems are upgraded to comprehensive mechatronic systems with smart regulation.
The development activity is divided into two main fields: Development of drive systems for known business partners and systems for the free market. The main development activities at the company are performed in the fields of E-mobility, Factories of the future and Industry 4.0, Smart towns and buildings, Safety systems, Electric tools and Small Household Appliances.
Calculations, virtualisations and simulations form the basis for advanced concepts of designing intelligent drive systems. We have a professional laboratory and measurement equipment for developing drive systems of the best quality.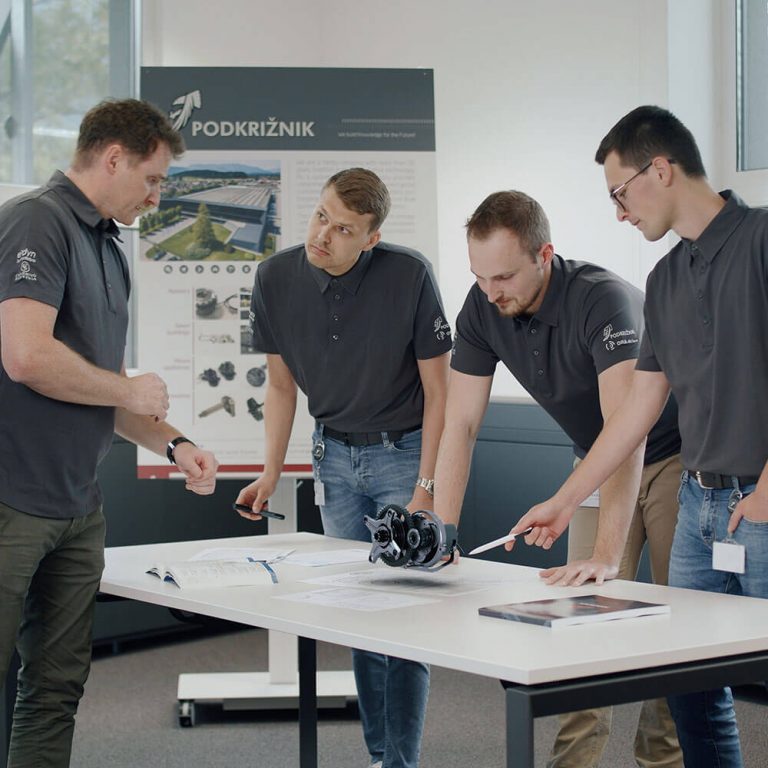 Rotations (absolute and gradual)
Vibrations
Noise
Temperature
Deformations
Flow and pressure
Microscopic presentations
Dimensions (scanning)
Surface areas (az, Ma)
Hardness (Hv, Ab, Hrc)
Forms (3D)
Drive dimensions (3D, double profile)
Electrical characteristics (V, A)
Our goal is to produce top-notch drive systems with reduced volume, less material used, lower noise level and new gear tooth geometry, withstanding equal loads despite their smaller dimension.
Keeping up with the progress
Cooperation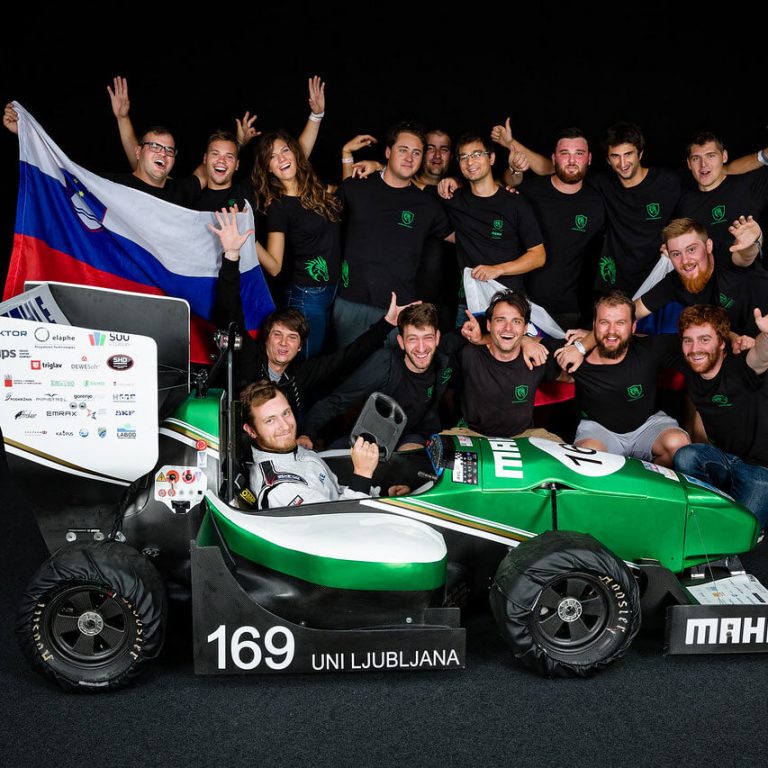 We strengthen cooperation and share knowledge with universities, Faculties, Institutes and other partner companies in the fields of Development, Research, Construction and Design, Production and Technology, as well as Simulations, Visualisations and Calculations (VDI, CFD and FEM analyses).
The company often connects with other experts in related fields, thus developing new innovative solutions in partnerships.
From the equipment developer to serial producer
Own production technologies
Our technologies, process automation and assembly lines with end product control are developed within the company.
Product development forms only the first part of the life cycle, and would be an end in itself without quality production. Quality manufacture of products developed by using state-of-art technologies aimed at "zero defect" production is, thus, offered to our customers.
At the beginnings of our existence we were pioneers in the field of Developing Purpose-made Production Equipment, as we developed machines for serial production of gear teeth. This great "know-how" enables us to remain the leading company in the fields of Automation, Advanced Technologies, as well as "dedicated" assembly and test processes to date.
Mastering numerous technologies. All our technologies are automated and produced to manufacture the most precise products with micron accuracy.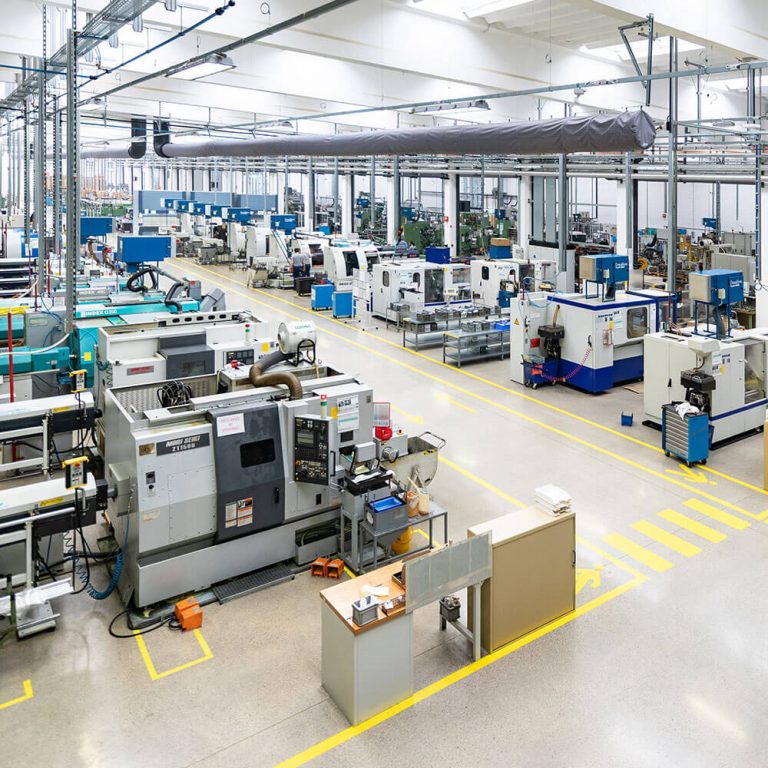 Plastic injection moulding
Plastic injection moulding on metal
Welding (mi6, ultrasonic)
Painting
Assembling
100% function testing
Measurment laboratory
Turning
Milling
Gear hobbing
Powerskiving
Broaching
Knurling
Deburring
Forging
Heat treating
Gear shot peening
Hard turning
Grinding
Honing
Straightening
Designing basic production processes
Development of technology and assembly lines and process testing and automation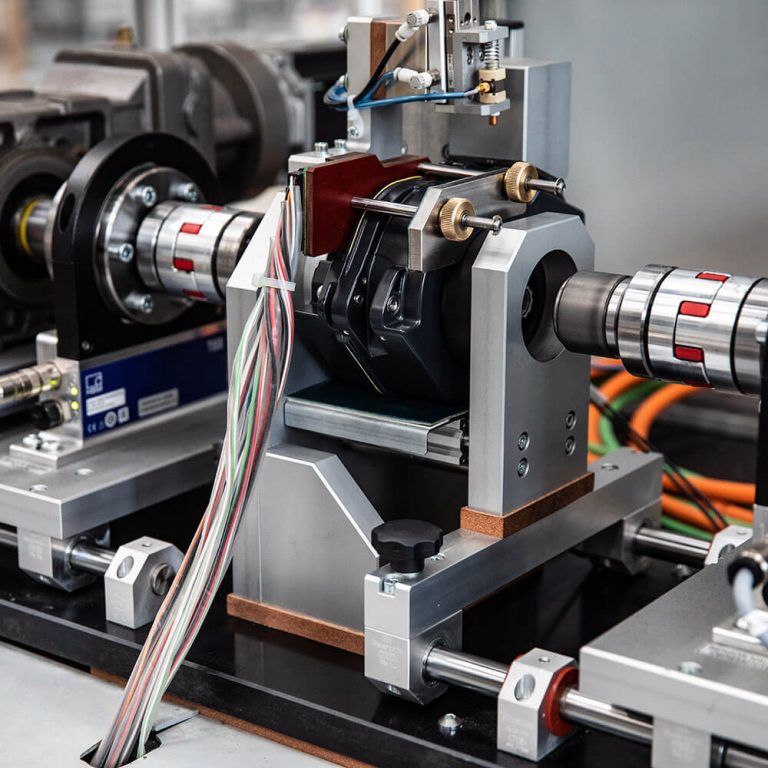 CAD/CAM
Designing purpose-made production equipment
Process automation
Tailor-made assembly lines and testing areas
Project realisation phase
Serial production
A flawless production process is represented by accurate planning and excellent communication with customers and suppliers worldwide.
The company's production units strive for 100-percent "zero defect" supply and production. The success of the production is confirmed by the constant growth of operations, the growth of projects for existing customers and the constant attraction of new customers.
The company received numerous awards in the fields of Innovation, Regular Supplies, Flexibility and supply quality in the history of its operations.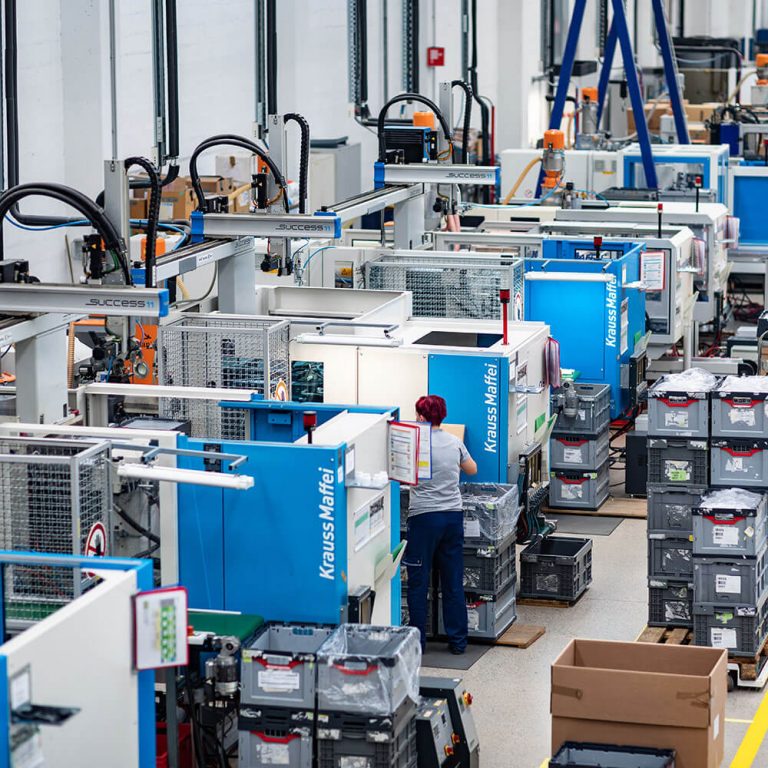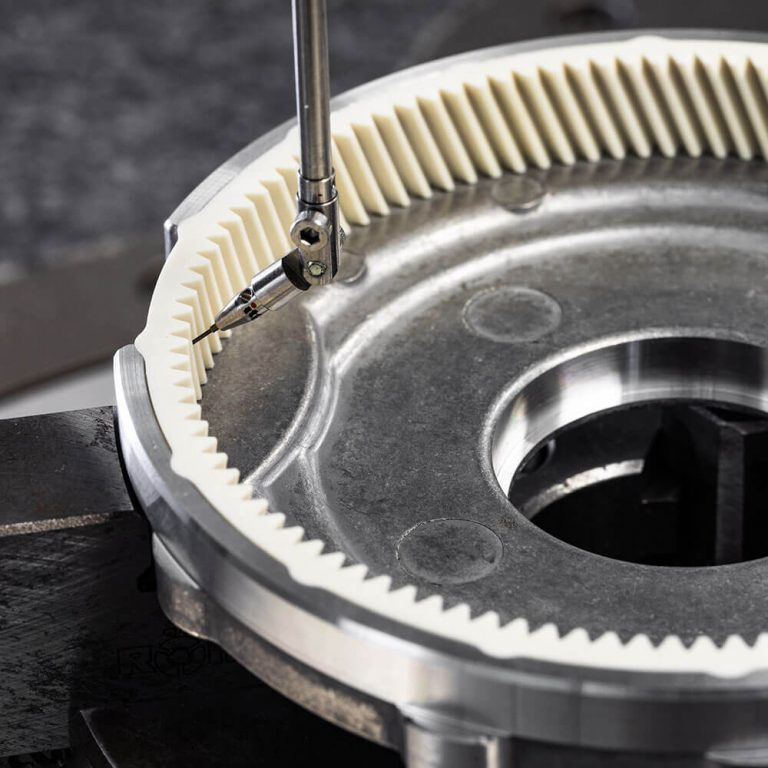 Our quality policy is based on the company development strategy.
We acquired the ISO 9001 standard in 2000. We give high priority to adequate environmental policy. This is confirmed by the ISO 14001 Standard from 2006.
We have in-house measurement laboratories and equipment enabling our quality control in a qualitative manner and product validations.